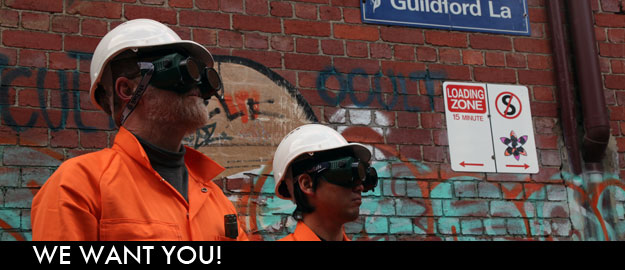 We are a collective of guilds using games to inform urban planning processes. We have just launched a locative game in the City of Melbourne. You can play anytime from now until the end of January 2011. A short video on how to play is here.
Register for fieldwork and help rezone the city through play!
Find out more about the guilds and post a comment in response to the codemaker, the urbanist or the ecologist on the home page…
Information on other activities can be found on the community page.
For a definition of urban codemaking, read the manifesto.
Images of urban codemaking are at our flickr feed.
Our activities range from community consultation, advising councils on city planning policies, and research into the role of ubiquitous media in shaping urban space. We have developed a transdisciplinary approach to urban design called 'urban codemaking'. This is an experimental approach that draws upon game design, computational semiotics and generative systems for urban planning. We are currently testing this strategy on the streets of Melbourne – a city known for its unique urban character resulting from a blend of planned and unplanned urban spaces.
This project was originally commissioned by the City of Melbourne as part of the Laneway Commissions 2010